We're a civil rights organization that has been fighting for equality for people with disabilities since 1970.
We are a civil rights organization committed to ending discrimination against people with disabilities - all disabilities. We fight to eliminate the barriers that prevent us from enjoying full equality in American society. Founded in 1970, DIA is a democratic, not-for-profit, tax-exempt, membership organization. DIA consists primarily of and is directed by people with disabilities.
We believe in the motto, "Nothing about us, without us!"
JOIN DIA
Membership runs Jan. to Dec.
Dues, based on what you can afford
(Choose one)
Lifetime membership to Disabled In Action
for one-time fee of $100
Donate $50 one-time
Donate $75 one-time
---
Note: If a DIA meeting is cancelled because of bad weather, it will be announced on DIA website on Saturday night or by calling the DIA answering machine at 718-261-3737. Call 30 minutes after sundown on Saturday.


---
As of November 2014, Access-A-Ride has a late cancellation window of 2 hours, instead of the previous time period of 3 hours.
---
A Community Reminder: Outer Borough Accessible Taxis are available. Please see list below of participating cab companies:
Grand Limo and Car Service Inc.
3607 32nd Street
Astoria, NY 11106
(718) 433-4255
Federal Transit NY Inc.
924 64th Street
Brooklyn, NY 11219
(718) 688-2288
Riverside Radio Dispatcher
1642 St. Nicholas Avenue
New York, NY 10040
(212) 923-1111
First Class C/L SVC Corp.
4980 Broadway
New York, NY 10034
(212) 304-1111
V.I.T. Car Service, Inc.
1478 White Plains Road
Bronx, NY 10462
(718) 904-8057
American Base No. 1 Inc.
522 East 149th Street
Bronx, NY 10455
(718) 665-6664
---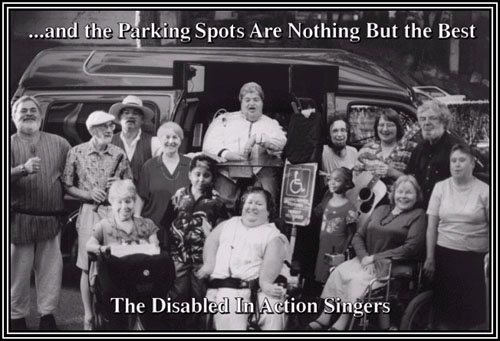 The DIA Singers' second CD
...and the Parking Spots
Are Nothing But the Best
$15.00 per CD ...and the Parking Spots Are Nothing But the Best
(descriptive booklet included, with lyrics and bio's)
$25.00 per "gift set" of 2 CD's, including ...and the Parking Spots Are Nothing But the Best (booklet included, as above) and IN MOTION, The DIA Singers' first CD (booklet included, with lyrics and bio's)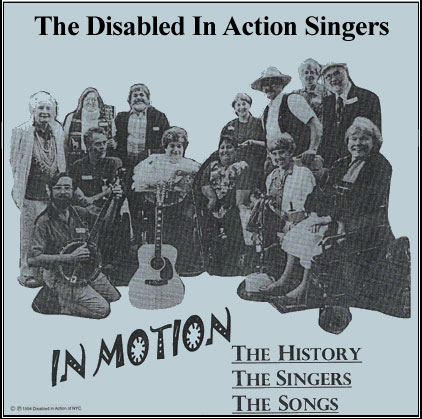 Printer-friendly format of The DIA Singers CD order form
(Link opens in a new browser window)
Listen to audio from The DIA Singers' first CD
IN MOTION

Listen to audio from The DIA Singers' second CD
...and the Parking Spots Are Nothing But the Best


---
Help getting materials from HRA in accessible formats
July 3, 2012
People who are blind and those with vision impairments have a right to government documents in alternative formats!
The Americans with Disabilities Act requires State and local government agencies to provide written materials in alternative formats to people with disabilities who need them to access the information in those materials. This obligation applies to the New York City Human Resources Administration, which is the City Medicaid and Food Stamp agency, as well as other City and State government agencies.
An alternative format can be:
Braille
Large print
Electronic documents in a text format that can be read by a screen reader
DVD with a soundtrack
Audio cassette
A qualified reader to read to you
Other formats
Agencies do not have to give you your first choice of formats but do have to give you materials in a format that works for you.
To get agency materials in other formats, ask for them in writing and keep a copy of the letter.
The National Center for Law and Economic Justice (NCLEJ) can help you ask for materials in alternative formats from HRA. If you would like their help, contact:
Cary LaCheen, NCLEJ, 212-633-6967 or lacheen@nclej.org
NCLEJ may also be able to help you if you have already asked for materials in alternative formats and the agency said no.
---
If you have any accessibility issues at Duane Reade stores, please make a note of the store, the date and time, and the problem, and we will soon have contact information here.


---



Also, view our Duane Reade Lawsuit: Updates section

This website was created and is maintained by Douglas Pucci