Link to original content and video of the story:
http://wcbstv.com/shame/local_story_293173810.html

The images in this story are from the October 20, 2005 WCBS-TV broadcast
October 20, 2005
From WCBS-TV (CBS New York affiliate):
Shame On You: NYC Transit Makes The Hall Of Shame
Arnold Diaz reporting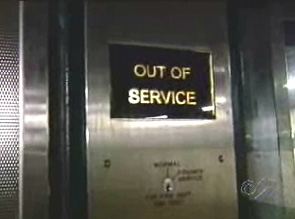 (CBS) NEW YORK - How would you like to get stuck in the subway? A horrible thought, but that's what's happening here to Edith Prentiss. who uses a wheelchair to move about.
"The elevators out. How can I get out of here?" Edith asked an operator through the intercom outside the elevator. "You have to use the staircase," the operator replied.
Use the staircase? not a very practical solution to Edith's dilemma.
"I'm in a wheelchair," Edith said.
Edith, a disability rights advocate, says she's been in desperate situations like this many times, because of what she calls NYC Transit's neglect in maintaining subway elevators. That's why she took us here to the West 4th Street station.
New York City Transit recently spent close to seven million dollars making this station accessible for disabled riders, one of only ten percent that are. Three elevators were installed here in April. The elevators are supposed to make it possible for Edith to transfer to the Sixth Avenue line. But we watched as she tried to use this one, and found out it's out of service. She's frustrated, but not surprised.
"It's been out of service for at least a month," said Edith.
So Edith takes the ramp over to the northbound platform, where there's another elevator to make the transfer. She finds out that it too is out of service. Now angry, she again uses the intercom for help.
"Are any of the elevators working at all in the complex?" Edith asked. "No, I'm sorry. They're all out," replied the operator.
Yes, even the elevator she would have to take to exit the station is not working. Edith is stuck.
"There is no way to get out of this station to the street or to transfer," Edith said.
Three new elevators at West 4th Street, all out of service for at least a month. What's going on? We saw a sign on one of the broken elevators saying it will be fixed by October 5th. That's two weeks ago. Even the token booth clerk, who has to deal with the frustrated stranded riders, told me she can't get a straight answer.
"I mean I called elevator repair myself today and he hung up on me," she said. "Is that right?" Diaz asked. The clerk replied, "Yeah. He said, 'don't want to hear your problems' and he hung up."
New York City Transit, in a statement to CBS 2 said "The elevators...have door problems." And they "will be repaired at the contractor's expense...by the end of November."
Michael Harris, from the Disabled Riders Coalition says New York City Transit should at least alert riders to the long term problem, as it's own rules require.
Harris said, "It's supposed to put up signs at every station along the line to warn riders of this. There are no signs up, no warnings, there are no announcements being made on trains. No way for a disabled rider to even know the elevator's out unless they happen to call the hotline."
He says these elevators have been constantly breaking down since they were installed seven months ago, causing huge problems for disabled riders. For Edith Prentiss to get to her destination on the Lower East Side, she'll now have to get back on the subway, go to the nearest accessible station, 14th Street or the World Trade Center, then take two buses.
Diaz asked, "So how much time does this add to your trip."
"Today it'll add an extra two hours," replied Edith.
So into our CBS 2 Hall of Shame -- we induct New York City Transit, whose elevator repair delays add yet another hardship to the lives of disabled riders.
Follow-up article from WNYC
October 28, 2005
Link to original content:
http://www.wnyc.org/news/articles/53322
MTA is Sued Over Broken Elevators
WNYC Newsroom

NEW YORK, NY, October 28, 2005 — The MTA is being sued over broken elevators at its West Fourth Street subway station.
REPORTER: Michael Harris of the Disabled Riders Coalition says his group is filing the lawsuit today in order to force the MTA to deal with a long-term problem.
HARRIS: This elevator's been out of service for over a month, all three of them in fact making it impossible to transfer trains or to get to the street from the train.
REPORTER: Harris says public accomodations for the disabled must be repaired in a timely fashion and he's seeking to have the MTA fix all broken elevators within a week. The transit authority says the West Fourth Street elevators were taken out of service on October 6th to give the contractor an opportunity to make repairs, since they're still under warranty. They should be up and running by the end of November.
Another follow-up article from Ragged Edge Magazine
October 28, 2005
Link to original content:
http://www.raggededgemagazine.com/departments/news/000572.html
NYC Crip Riders Sue MTA Over Broken Elevators
New York City's Disabled Riders Coalition say they are filing a federal civil rights lawsuit today against the city's Metropolitan Transportation Authority and the New York City Transit Authority. The group claims that long-term elevator outages, such as that at the West 4th Street subway station, violate Title II of the Americans with Disabilities Act. Plaintiffs Michael Harris, Edith Prentiss and Carmelo Gonzalez are all wheechair users; they say they've been unable to use any of the three elevators for over a month.
Attorney Martin Coleman says that the ADA obligates the transit authority to repair broken elevators "in a reasonable manner of time."
A segment which aired [October 20, 2005] on WCBS-TV documented that all three elevators at the West 4th Street subway station has been out of service for over a month. The station booth clerk told CBS 2's Arnold Diaz that she had contacted elevator repair, but that they had simply hung up on her. When contacted by CBS 2, NYCT Director of Public Affairs Charles Seaton said in a statement that they were aware of the situation and anticipated that the elevator would be repaired by the end of November.
Michael Harris, campaign coordinator of the Disabled Riders Coalition, said that two and a half months certainly did not constitute a reasonable period of time. "Disabled riders understand that elevators are mechanical devices and like all mechanical devices break down from time to time," said Harris. "But when mechanical devices break down they are generally promptly repaired. The TA does not seem to have that same philosophy, it just isn't a priority for them."
Harris said that currently 13 subway elevators at the city's 51 accessible stations were out of service, according to New York City Transit's elevator hotline. "Elevators were out of service at such major hubs as Borough Hall, Atlantic Avenue and West 4th Street. For disabled riders, such stations are essential transfer points," said Harris, pointing out that unlike other riders, their transfer options are severely limited. "Such outages deter riders with disabilities from utilizing the system altogether, a situation which is truly sad," he said, adding, "even two elevators at the newest accessible station, 179th Street - Jamaica [F train] have been out of service for over a week. It is simply inexcusable."