Disabled subway riders want to know why it's taken so long for a new elevator to get installed at a Brooklyn train station.
They say the opening of a brand new elevator at the Stillwell Avenue station was delayed for months, making their commute more difficult.
The station recently underwent a $300 million renovation. New elevators were supposed to open in May but didn't start running until last month, with one of them in and out of service as late as Wednesday.
Because both the subway map and the MTA website indicate the station is accessible, some disabled riders have taken the D train all the way here, only to have to turn right back around because they had no way of getting off the platform.
"I think it's absolutely offensive," said Assemblywoman Adele Cohen. "If you are putting in a brand new station that everybody is taking credit for as the world's most beautiful, gorgeous, wonderful, terrific station - if it's not user-friendly who cares?"
"It's a major waste of money and it's going to deter disabled riders from using the station," said Michael Harris of the Disabled Riders Coalition. "We have enough problems to worry about. There are only 51 accessible stations out of 468, we have subway gaps, we have elevators breaking down, which is a systematic problem in our view."
Transit officials attribute the delay in the opening of the elevators to a rigorous inspection process, and say they are looking into why the elevator was out of service Wednesday.
Link to original content:
http://news12.com/BK/topstories/article?id=165794

The images in this story are from the
November 9, 2005 News 12 Brooklyn broadcast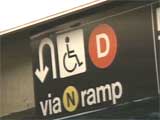 November 9, 2005
From News 12 Brooklyn
Disabled Coney Island riders blast Stillwell Avenue station makeover
CONEY ISLAND – Disabled subway riders in Coney Island are blasting the MTA's renovation of the Stillwell Avenue station.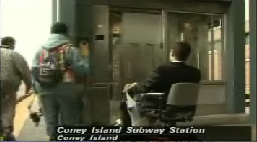 According to disabled riders, handicapped access to the station is extremely difficult at the recently renovated station. They claim access before the makeover was much better than what they have to deal with now. Although the MTA installed two new elevators at the location, riders say they prefer ramps because elevators often break down.
MTA officials say the current layout of the station was their only option for accessibility. However, disabled riders say the MTA should have asked for more input before proceeding with the project.
Related links: