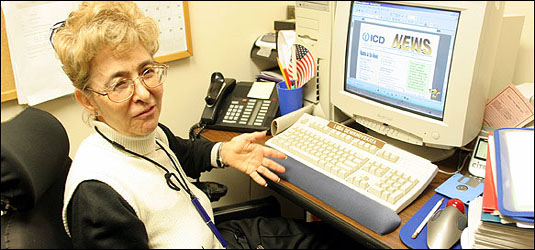 Luda Demikhovskaya, an immigrant from the former Soviet Union, in the Manhattan office of the International Center for the Disabled. / Photo by Marilynn K. Yee
There are those who let a disability get them down. Then there is Luda Demikhovskaya.
"This is how I have learned to survive," she said the other day, smiling broadly from a motorized wheelchair and offering a bright blue business card to a visitor. "Lyudmita Demikhovskaya," the card says, "Disabled Activist."
"I have always volunteered," she said. "I help other people."
But even Ms. Demikhovskaya, 64 and seemingly indomitable, needs help from time to time.
She was born July 4, 1941, on a train screeching across the dark landscape of the Soviet Union, away from her family home in Minsk as that city was bombed in the early weeks of World War II. Two years later she was found to have polio.
She endured repeated operations, learned to walk with leg braces and crutches and excelled in school. Her dreams of becoming a doctor were denied, she said, because her disability and religion (she is Jewish) were both the objects of Soviet discrimination.
Ms. Demikhovskaya immigrated to the United States in 1979 with her mother and a sister and settled in Brooklyn. Although trained as a medical laboratory technician, she said, she spoke no English, had no established relatives in America to help and was "scared to death of what lay ahead."
But she immersed herself in American culture, quickly learned the language, and volunteered with the International Center for the Disabled in Manhattan and the United Jewish Appeal. Seeking ways to press for the rights of disabled people, she also began decades of unpaid work for such groups as Disabled in Action, the Disabled Network of New York City and the 504 Democratic Club.
Her pursuit of a career, though, was proving difficult, and her financial burden became heavier in 1988 when her mother was found to have Alzheimer's disease. Until 1993, Ms. Demikhovskaya cared for her mother almost constantly in the one-bedroom apartment they shared in Midwood, Brooklyn.
"I wanted to be like everybody else," she said, recalling how she sank into periods of deep depression. "But I am disabled and I had to take care of my mother."
In 2000, a year after her mother's death in a nursing home, the stars in Ms. Demikhovskaya's life appeared to align. She had completed a computer course at New York University, and was working part time as a computer technician.
But the next blow fell swiftly. In an elevator accident at the university in 2000, one of her legs, already ravaged by polio, was irreparably damaged. That meant that her braces and crutches no longer sufficed: she needed a wheelchair.
Unable to rely on public transportation, she could not keep her part-time job, and her trips to Manhattan and meetings of her advocacy groups became far less frequent.
Without a job, she said, her monthly income dwindled to $666 in Social Security benefits, enough to cover the rent on the same rent-controlled Midwood apartment she has occupied for 26 years, but not much else.
Ms. Demikhovskaya turned to her computer, and to the contacts she had accumulated helping others, to put her life back on track. One agency she contacted was the Jewish Association for Services for the Aged, which receives some of its financing from UJA-Federation of New York, one of seven local charities sponsored by The New York Times Neediest Cases Fund.
The UJA-Federation provided a $600 grant so that Ms. Demikhovskaya could have an experience she had dreamed of since childhood.
It sent her to summer camp.
For two weeks in August, she attended the Block & Hexter Vacation Center, a retreat for the elderly in Poyntelle, Pa. Far from the cramped isolation of her Brooklyn apartment, she painted pictures, attended lectures, tried her hand at pottery and found herself surrounded by others of the same age and religion.
"You need to get away from the city and your problems," she said. Among other benefits, she said, the camp experience drew her closer to Jewish traditions and beliefs.
"Remember, being born in Russia, I was not brought up in a religious way," she said.
Although she never abandoned her volunteer work, Ms. Demikhovskaya said she found herself energized by the summer retreat. Now, spending two or three days a week at the International Center for the Disabled, she publishes an in-house newsletter and counsels other disabled people on such things as housing and medical care.
From home, she uses her computer to send e-mail messages, championing causes like taxi access for the handicapped. One of her e-mailed notes, arriving on a reporter's screen the other night, was more personal.
"I was suffering so much in my life," she wrote. "Now, closer to the end of my journey, I want to help others live better."
Additional comments from Luda Demikhovskaya:
As usual, the reporter did not exactly write my answers to his questions, and I never read the article before it was published.
I had agreed to give that interview, hoping that it would help to get more money to organizations which help people with disabilities. I donít know if the article helped make that happen.
First, I had in mind to make camp Block & Hexter more accessible, not only for me, but for all elderly or disabled people who want to get away from their homes, but also canít go to places which are very expensive and/or not accessible.
Second, ICD has supported me for so many years in many difficult periods of my life. As I try to help them now, I give back to them in the best way possible.
A few years ago, when I was looking for a place to go for a vacation, all of UJA camps refused to take me when I explained to them that I use a motorized wheelchair. But Camp Block & Hexter accepted me.
All campers were able to get to the camp by bus from different areas of New York City. However, I couldnít because the buses were not wheelchair accessible.
We all know that in New York City there are scarce alternative transportations for people with wheelchairs. There are very few taxis and car services that are accessible but they are very expensive.
I got so frustrated with trying to get a wheelchair-accessible bus to travel to the camp that I began to talk to the administration of the camp. I told them that according to ADA, I have the same rights to get to the camp as other campers and I finally succeeded in it. That next year, camp Block & Hexter provided me with the bus, which was wheelchair-accessible.
Every year, when Iím go to the camp as a camper (and as a disabled activist), I look around and make suggestions to make the camp safer for elderly people. For example, suggesting to eliminate a little step or make a little ramp or slope. The camp is not just for me but it's for everybody.
Now my next goal is to help make wheelchair-accessible bathrooms an the camp's public places.
We are people with different kinds of disabilities. We know that the world wasnít built for us. It is our goal to make this world better for us and for future generations of people with disabilities.